Senin, 07 Okt 2019 07:48 WIB
MU Tenggelam di Papan Bawah, #OleOut Ramai di Media Sosial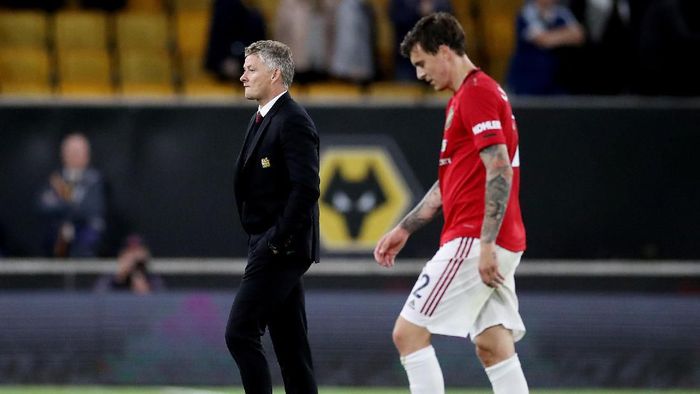 Ole Gunnar Solskjaer makin dapat tekanan untuk mundur dari Manchester United (Reuters)
Manchester
- Desakan agar
Ole Gunnar Solskjaer
meninggalkan kursi manajer
Manchester United
kian kencang, setelah The Red Devils kalah 0-1 dalam lawatan ke Newcastle United.
Manchester United menelan kekalahan ketiga musim ini saat tunduk dari Newcastle United dengan skor tipis 0-1. Hasil ini membuat David de Gea dkk kini terpuruk di posisi 12 klasemen Liga Inggris. Cuna dua poin yang menjadi jarak mereka dengan zona degradasi.
Beberapa rekor buruk kembali menghampiri MU. Ternasuk 11 kegagalan menang secara beruntun di laga away dan penampilan terburuk MU (9 poin dari 8 laga) di awal musim sejak 1989-1990.
Penampilan MU yang tak kunjung membaik membuat desakan supaya Ole Gunnar Solskjaer mundur dari jabatannya bergaung kencang. Di media sosial Twitter, tagar #oleout menjadi trending sejak dinihari sampai pagi ini.
The last match for José in Man United was against Liverpool and next week we'll face them. I think this is the real time for Ole to be sacked - Now I'm done with him.❌#OleOUT❌ pic.twitter.com/gxGmIaB3Qu

— Māx #OleOUT (@MaxThierry_) October 6, 2019
Just look at Periera, he so shocked Fred cannot control a simple pass OMG. We paid 52million for this guy 😂😂😂#NEWMUN #OleOut Manchester United pic.twitter.com/a6txMaLR3o

— Ghana Chris Brown😎🎩 (@Nana_Yaw_Xander) October 6, 2019
Ole has turned us into a top 10 contender , a mid table team. If we don't sack him now , he'll drive us straight to relegation #OleOut pic.twitter.com/ycMv5bCzRF

— Deji Imole™ 🇳🇬 (@deji_imole) October 6, 2019
Liverpool 3:1 United
Mourinho got sacked

Next We're playing Liverpool ...
Do you see what Am thinking?🙂😂#OleOut.

— Opiyo Polycarp™ 🇰🇪 (@opiyok97) October 6, 2019
The #OleOut calls will come, but the guy who gave Solskjaer the job has to take a large share of the blame for the mess he has overseen at Man Utd for far too long.

Pochettino is there for the taking now but would he do any better working with Ed Woodward? Doubt it #MUFC pic.twitter.com/fQBxKBK9lU

— Kevin Palmer (@RealKevinPalmer) October 6, 2019
#OleOut I'd rather watch @ManUtd female team than watch these clowns called Rashford and Young. Ole must fucking go pic.twitter.com/W8uqNmxaMX

— Hillary Tamakloe (@KwameTamakloe_1) October 6, 2019
Ole after full time
Im happy with the performance. We played well. It was just unfortunate we lost. The boys have the united DNA. We want to build on the tradition. Im ok with the output i see in training.

Get this fucker out of my club. Add Woodward too.#OleOut

— Dr. Ayigbe Borla Bird 🇬🇭 (@Mr_Ceyram) October 6, 2019
2 points off relegation 😂😂😂

Manchester United fans #OleOut pic.twitter.com/q0jasd0K51

— Shan (@shanuddin889) October 6, 2019
Simak Video "

Jerman Lolos ke Piala Eropa Usai Hantam Belarusia 4-0

"
[Gambas:Video 20detik]
(din/rin)